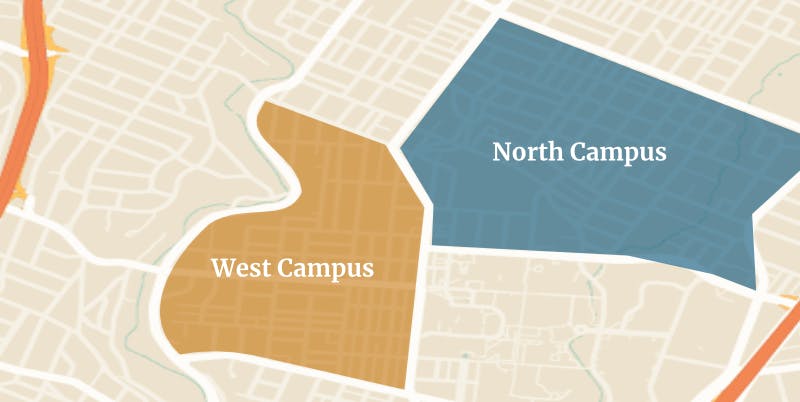 West Campus
West Campus is the pulse of student living. Many students start out in West Campus because it's such a short walk to campus. And you can find restaurants, coffee shops, food trailers, and shopping within a few blocks. Over 17,000 people live in this ten-block by ten-block area, and it's home to first-year students, Greek houses, and many who want the convenience of this walkable neighborhood. You have every imaginable housing option from newer high rises, to houses, condos, and apartments.  There's something for everyone in West Campus.
North Campus
If you want to be north and as close as possible to campus, North Campus is for you! Located from Dean Keeton up to 38th Street between Guadalupe and Red River, you will likely walk to campus. And if it's raining, you can hop on a shuttle for a five-minute ride with a drop-off on Dean Keeton. Feels a little more like a neighborhood than West Campus.
Hyde Park
If you want a quiet neighborhood experience while still only being 10 minutes to campus, Hyde Park is a great choice! Located from 38th up to 51st Street between Guadalupe and Red River, Hyde Park is known for having small 10-20 unit complexes alongside single-family homes. There's so much you can walk or bike to in this super walkable neighborhood—coffee shops, grocery stores, and restaurants. Bike lanes make it safe and easy to bike to campus and there is a shuttle bus with frequent stops that will drop off on Dean Keeton in less than 10 minutes. This is the place for quiet, yet still close.